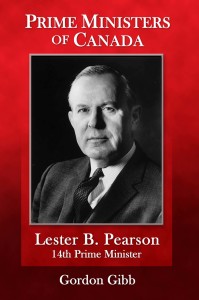 by Gordon Gibb
March 1, 2015
A very thoughtful and wonderfully written biography. All prime ministers could look to Pearson as an example of a politician who cared about people; all students in Canada could read this book and the others in this series.
LibraryThing
I'm always a big fan of Pearson. He led Canada to the road of prosperity. This book helps me to know more about this hero. I recommend it to every Canadian patriot.
Amazon
To know our Prime Ministers is to take some pride in the eclectic collection of individuals and stories that make up our history. Whatever our politics, whatever one may think of individual PMs and their decisions, one recognizes that they are a mirror to their times, a reflection of who we were and where we come from. Those who do not know our history are doomed to believe it boring; those who do know, gain the bragging rights that come from having great and colourful ancestors. – Dr. Robert Runté
Canada's 14th Prime Minister was a statement in contrasts. He was an academic, and an athlete. He was a politician who hated politics. He had powerful friends throughout the world – and he was an everyman who preferred the quiet solitude of home and hearth, and intimate gatherings with friends. He spoke with a lisp and favoured bow ties. And yet when he spoke, the entire world listened.
Lester Bowles 'Mike' Pearson never aspired to the mantle of Canadian government. And yet, when fate intervened and he found himself first as Leader of The Opposition and then later as Prime Minister, Pearson and his government achieved a remarkable number of significant reforms that went a long way towards shaping the country we know today. These include universal health care, the Canada Pension Plan, official bilingualism, and the adoption of the distinctive Maple Leaf flag. Remarkably, the Pearson government achieved all this and much more with two, successive minority governments.
Prior to becoming Prime Minister, Lester Pearson's background was in the Canadian Civil Service. He was present at the founding of the United Nations, and his vision for a UN Peacekeeping Force played a major role in averting the Suez Canal Crisis in 1956. Subsequently, Pearson was the first Canadian to be awarded the Nobel Peace Prize in concert with his international diplomacy.
Throughout his academic and political life he remained on a first-name basis with world leaders, and was easily the best-known Canadian on the world stage. And yet he was not given to the trappings of fame or status, and in tandem with his professional accomplishments he maintained his love for sports, and especially baseball.
A man of simple tastes, Pearson was selfless and unquestionably dedicated. His career required constant air travel, and yet he didn't fly well. He preferred understated homes over opulent addresses. And while he would view the implementation of the Canadian flag as his proudest achievement, in most respects he viewed himself as little more than a regular guy, just doing his job.
He was also one of the best Prime Ministers of our time….
Volume 14 of The Prime Ministers of Canada Series. 
Trade paperback 6 x 9, 156 pages
ISBN 9781927400838 $17.99
EPUB format
eISBN 9781927400845 $4.99