Congratulations, Robert Runte!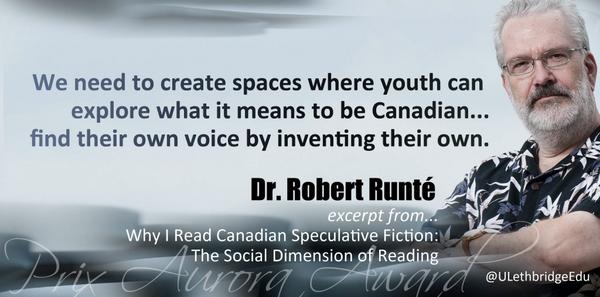 Congratulations to Five Rivers' Senior Editor, Dr. Robert Runte, for receiving the Prix Aurora Award for Best Fan-related Work, for "Why I Read Canadian Speculative Fiction: The Social Dimension of Reading", Scholar Keynote Address at ACCSFF '13, Toronto.
Robert Runte, front, fourth from left
mugging it with other Prix Aurora winners at V-Con 2014
Well done, Robert! We are so proud of you.
Robert Runte (right) holding his Prix Aurora, with William Gibson author of the seminal SF novel, Neuromancer (left)
The Prix Aurora Awards were presented this year at V-Con, Vancouver BC's premier science fiction, fantasy and games convention, since 1971, held this year October 3-5, at the Sheraton Vancouver Guildford hotel.
Congratulations to all of this year's Prix Aurora winners:
Best English Novel: A Turn of Light by Julie E. Czerneda, DAW Books
Best English YA Novel: The Rising by Kelley Armstrong, Doubleday Canada
Best English Short Fiction: "Ghost in the Machine" by Ryan McFadden, The Puzzle Box, EDGE
Best English Poem/Song: "Night Journey: West Coast" by Eileen Kernaghan , Tesseracts Seventeen: Speculating Canada from Coast to Coast to Coast, EDGE
Best English Graphic Novel: Rock, Paper, Cynic by Peter Chiykowski, webcomic
Best English Related Work: On Spec published by the Copper Pig Writers' Society
Best Artist: Erik Mohr, cover art for ChiZine Publications
Best Fan Music: Chris Hadfield for his performance of Space Oddity
Best Fan Organizational: Randy McCharles, Chair and Programming, When Words Collide, Calgary
Best Fan Related Work: Robert Runté, "Why I Read Canadian Speculative Fiction: The Social Dimension of Reading", Scholar Keynote Address at ACCSFF '13, Toronto